Asuka
Asuka
Details
Age:13-14
Birthday: Dec 4th
Height: 157cm
Weight: Top secret
Measurements: cm/cm/cm

Chinese VA:
Japanese VA: Yuko Miyamura
Weapon
Lances
This Valkyrie is a Limited Valkyrie. This Valkyrie is only available during special event. When no such Event Mission are active, this Valkyrie cannot be obtain in Supply.
Asuka is one of many main characters in the Honkai Impact 3rd and Evangelion collab.
Appearance and Personality
[
edit
|
edit source
]
The girl who made appearance in the rescue operation for Anti-Entropy's Tech Division. In the operation, she help Mei and Kiana when they were surrounded by Honkai Beasts, and showed no obvious sign of corruption after fighting the Honkai Beasts, which suggests that she may possess high Honkai Adaptability.
In close combat, she fought off most Honkai Beasts with only an oddly-shaped red lance. Her exceptional physical strength remains a mystery with a massive ego and a fiercely competitive personality, she appeared to be very unfriendly at first, but as we learned more about her, she turned out to be a loveable girl.
She has a understanding of the Angels, and has established a relationship of mutual assistance with Anti-Entropy. She seems to be bearing a certain mission, but the details of the mission remain unknown...
"What are you, stupid!? Not being available in a moment of crisis, so irresponsible!"
*You pervert, idiot, molester! I can't believe you!*
*Though you're a idiot, I have to admit you're diligent.*
*So darn cold... Hey, haven't you fixed the heater?*
"Are you stupid? That's your payment box? It's a natural conclusion considering which one is better."
"Creatures live by eating other creatures"
"I drive Eva for myself, how about you?"
"That's right. I..can laugh."
"I don't need your thanks. That it's only for elite's duty to help the fools."
"It's the official type, such as the world's first real Evangelion."
"I didn't really need friends. Since the beginning, no one really cared about me."
"But lately, I think it's nice to be with others.. though it doesn't suit me."
"Nice weather for a day out? What kind of dumb excuse is that? Idiot."
"Captain... let me stay a little.."
"It's tiring to pretend to have fun with others, and I didn't like to see the happiness of others."
"It's kind of easier. I didn't know it was nice to talk to someone."
"What?! You didn't bring us lunch?! How could you! You expect me to go out without lunch?!"
"You called me today for a rush mission, huh?"
"Ugh, A gloomy day like this makes me upset."
"I couldn't do anything... on my own."
"Being alone has always been a norm for me, and yet.. Solitude didn't bother me, and yet.."

[After gacha]
"What the heck? There must be something wrong with the gacha!"
[Away from Keyboard]
"Ughh.. I'm bored, no ones come."
"I'm different from them, I'm special.. so from now on.. you have to do it alone, Asuka."
"You don't admit my talent, do you?"

[Shaking bridge]
"Anta baka?!"
"To do something completely childish, like an idiot."
"Ah, please stop!"

[Reaching midnight]
*Quit playing already! Go to sleep!*
Battlesuits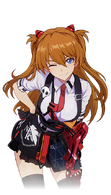 Blazing Hope.png
Costumes
Auburn Sync PS (Costume).png