Legacy Content
This page or section contains information on game elements that are no longer available, which has been retained for reference purposes.
Item Details
- DIALOG -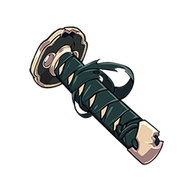 Broken Handle
USE: General purpose upgrade material for some equipment. Source: Random drop from Story stages.
Broken hilt of a samurai blade. Who wielded that blade?
Sell Price:
Mithril
 ×600
Broken Handle is an item in Honkai Impact 3rd.
Source
Command Center - Adventures