Dorms
Dorms
Debut
August 8th, 2018
Notable Rewards
A(n) imperial/metric-ton of cute stuff :3
The Dormitory is a feature in Honkai Impact 3rd that allows Captains to interact with chibi versions of their favorite Valkyries or Stigmata. The Dorms can be customized with a large array of furniture and even allows for additional rooms and change of setting. Relax with your favorite characters in Honkai Impact 3rd!
Welcome to St. Freya's Dormitory
[
edit
|
edit source
]
Care and Keeping of Your Dorm
[
edit
|
edit source
]
The three keys to a happy and health dorm environment are the three C's: Comfort, Crafting, and Cuties! Let's take a look at all three!

Of course, nothing in life is free. If you're low on materials, be sure to check out the Dormitory Store, Captain!
Dormitory Store
x 40000
x 12
x 5
x 30
x 20
x 75
50 per refresh
20 per refresh
99 per refresh
50 per refresh
The Dorm Renovation and Comfort levels are the scores that allow Captains to expand their dorms. Renovating allows more pieces of furniture to be placed in each room, and in some cases even allows for more rooms to be built.

Dorm Renovation Levels
Use building materials to renovate your dorm. Each renovation will add 1 yellow bar of renovation progress towards your current renovation level.
Each renovation level requires 6 bars of renovation progress and is only applied to one room.
Completing renovation progress will increase the limit on the number of furniture displayed. A higher renovation level will also increase the number of Valkyries that can move in and will increase dorm energy.
Displaying furniture in the dorm will increase the comfort level.
The dorm comfort level is the total comfort level of all dorm rooms (including the common area).
Once the dorm comfort level reaches a certain number, the comfort level rating will increase.
The comfort level rating affects the rate of regeneration of dorm energy. A higher rating will increase the rate of regeneration.
Comfort level rating will also be shown as a prefix before the Captain's dorm name.
| Level | Comfort Required     | Energy Regen |
| --- | --- | --- |
| Out-of-date     | 1-299 | +2/Hour |
| Basic | 300-899 | +4/Hour |
| Livable | 900-1499 | +8/Hour |
| Average | 1500-2399 | +12/Hour |
| Comfy | 2400-3499 | +17/Hour |
| Luxurious | 3500 | +23/Hour |
Dormitory Facilities
Dorm Facilities are different machines in the common area that allow you to perform various tasks to help in the main game. Stigmata and weapon upgrades are available, as well as Battlesuit level and SP training. You can even stockpile stamina to have ready later! The energy center is unlocked by default, and upgrading it will unlock other facilies.
Dorm facilities have various functions, and using facilities will consume dorm energy.
Upgrading a dorm facility will improve the effect of the facility, but will also increase its dorm energy consumption and required time. The Dormitory Facilities have been disabled (time unknown) and are not removable (According to the latest global version 4.5)

Dorm Energy
Dorm facility energy powers various facilities in the common area.
Increasing your dorm energy center level will increase the dorm energy limit.
Increasing the dorm renovation level will also increase the dorm energy limit.
Dorm energy regenerates every hour and the amount regenerated is related to the current dorm comfort level rating.

Dorm Name
Please note that dorm names are limited to 8 or less characters, despite the default name, "St. Freya's Dormitory", being more than 8 characters.
Furniture blueprints will be unlocked when you obtain furniture for the first time. If you have the blueprints of a particular piece of furniture, you can assemble that furniture using materials.
Some furniture blueprints (Housewarming set, etc...) are already unlocked.
Some furniture can be obtained from the move in rewards in the dorm directory.
Some furniture can be obtained from in-game events.

Once you've acquired some cute little residents and crafted them some furniture, it's time to let them loose!
Each dorm has 2 rooms to start, the Common Area and the Master Bedroom. Upon reaching Dorm Level 3, a third room, the Bedroom, will be added. Let's start with the UI. The top row has:
Camera
Dorm Energy
Dorm Level
Current room (with arrows to change rooms)

On the bottom left is:
Visit (check out friend's dorms!)
Menu
On the lower right:
Edit (place and rearrange furniture)
Dorm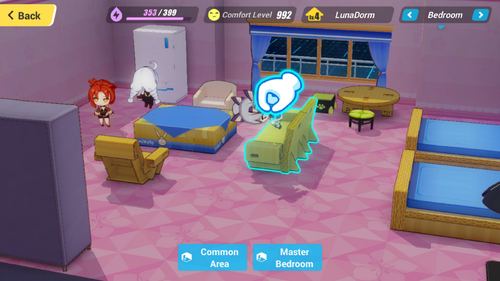 Once you've set up your dorm, you can watch the chibi Valkyries and Stigmata interact with each other and the dorm furniture, or you can pick what they should do.
Certain interactions in the dorms will trigger a Dorm Interaction! These are visual novel type scenes where one or two Valkyries will let you know a little more about their likes and personalities. Some of these interactions require Valkyries to be in specific places. This can happen naturally, but you also have the ability to pick up and move chibis by long pressing on them and dragging them to the furniture or location you'd like to place them. For furniture specifically, the piece of furniture and the hand icon will have a blue outline to indicate where the chibi will go.
Be sure to experiment with different combinations of Valkyries in different places!
Some actions in the normal game will affect your Valkyrie's well-being in the Dorms. Be sure to take care of their needs!
In a

Sad Daze

after too much playing? Repeated taps should get their attention!
Fighting is tough. Let them rest on a chair or bed if they're

Tired

, or tuck them into bed if they're

Sleepy

.
Abyss can make a girl

Hungry

, let her get a snack from the fridge.
Already proven you're the best? Prove it again with some

Game Time

at the arcade, TV, or PC!
Spending time with

Mei

leads to... spending more time with

Mei

. Just standing next to her should do the trick.
The key to getting stronger is to study, study, study.

Read

some books at the magazine rack or bookshelf.
Did you just get a great Supply pull? She's so excited! Tap her and

Talk

about it!
Sometimes Valkyries are just happy to see you!

Greet

her with a smile!
What's a dorm without some residents? Convince the cute chibi Valkyrie Battlesuits and Stigmatas to move in by completing missions. Don't worry, you don't have to do every mission...
White Comet and Crimson Impulse are unlocked by default.
Other Valkyries can move in via the dorm directory, where they can be then placed in the dorm.
In Ver 3.5, all of the Valkyrie Dorm Move-In Missions have been removed. Therefore, any Valkyrie that captains have in their possession will be automatically welcomed to their dorms.