Spoilers Ahead, You Sure Wanna See Them?
The content below contains major unmarked spoilers. Don't say we didn't warn you, Captain~
Below is a list of minor characters.
Adam Kaslana
[
]
The biological son of Dr. MEI and Kevin Kaslana who was born as a test tube baby.
Anna Karenina
[
]
Anna Karenina was a Schicksal Valkyrie who was killed by her fellow squad team member, Murata Himeko, after she became a Zombie.[1] Manga chapters covering her story are no longer available on official sites, rendering her existence uncanonical until referenced in other media material.
Delvina Kaslana
[
]
Delvina Kaslana was a member of Twilight Valkyrie Squad operating in Siberia.[2]
An enemy called "A Puppet named Devana [sic] Kaslana" is fought in the Theater of Domination, suggesting that she fell victim to Herrscher of Domination. It's unknown what happened to her after the Herrscher was defeated.
Sirin's Mother
[
]
Sirin's mother had long brown hair and golden eyes just like Sirin. Following her death, Sirin became an orphan, suggesting that she was a single parent. The cause of her death is unknown.
Joyce Clone 1
[
]
The first clone of Welt Joyce made by Cocolia to represent as Anti-Entropy's sovereign in order her kidnapping plan of Raiden Mei to be approved in the AE Invasion events. He was a clone that was able to manipulate gravity and was both prideful and arrogant, deceived to be the 1st Herrscher himself.
Joyce Clone 2
[
]
The second clone of Joyce, also made by Cocolia, to help oversee the Singapore Incident where he helped get Dr. Magi and the Gem of Serenity away from Schicksal. He also demonstrated expertise in gravity manipulation but was more vain, narcissistic, and perverted.
Victor
[
]
A 15th century priest in charge of collecting indulgences for the Church of Schicksal and one of those involved in the experiments on the Black Box.
Prince of Desire
[
]
Sirin's chosen vessel for the Gem of Desire, that was modeled after her late friend, Avrora. She was defeated by Cecilia Schariac during the 2nd Honkai War.
Prince of Haste
[
]
Sirin's chosen vessel for the Gem of Haste, that was modeled after her late friend, Agata. She was defeated by the combined efforts of Cheng Lixue and Fu Hua during the 2nd Honkai War.
Prince of Serenity
[
]
Sirin's chosen vessel for the Gem of Serenity, that was modeled after her late friend, Galina. She was defeated by the collective efforts of Amber and Otto Apocalypse during the 2nd Honkai War.
Salome Jokanaan
[
]
An A-Rank Valkryie of Squad Snowwolf who died during the 2nd Honkai War when the squad was transporting Schicksal assets out of the Tower of Babylon.
Sasha
[
]
Sasha was the daughter of a florist in the 15th century and one of the girls Kallen had managed to save from being used in the Black Box experiments, and had developed a stigmata. After spending time in the San Michele monastrey in the aftermath of Kallen's execution, she returns to fight in the rebellion that overthrew Schicksal to avenge her heroine, but tragically dies in the final skirmish in 1491 even as Otto tries to use Abyss Flower to heal her.
Shennong
[
]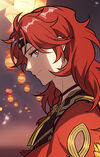 Shennong was a friend of Ji Xuanyuan and Fu Hua.
References
[
]