Legacy Content
This page or section contains information on game elements that are no longer available, which has been retained for reference purposes.
Item Details
- DIALOG -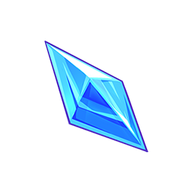 Ocean's Will
Specialized upgrade material for certain equipment. Source: Random drop in Weekday Event stages.
A crystal formed using multiple Ocean Shards. There seems to be a flowing current within it.
Sell Price:
Mithril
 ×800
Ocean's Will is an item in Honkai Impact 3rd. It was deprecated in version 3.1 in favor of Moon Will.
Source