Rozaliya Olenyeva
Rozaliya Olenyeva
Details
Age: 12-14
Birthday: Unknown
Height: 149cm (no horns)
Weight: Secret
Measurements: 72cm/53cm/75cm

Chinese VA: Xinlei Shi
Japanese VA: Aoi Koga
Weapon
Greatswords
Rozaliya Olenyeva is one of many main characters in Honkai Impact 3rd. She grew up in the same orphanage as Bronya and Seele, along with her sister, Liliya. Due to an accident, her body has been modified. Though she is often chided for being obnoxiously loud and rambunctious, many have noted that her mature side shines through when she looks after her sister.
Appearance and Personality:
[
edit
|
edit source
]
-Rozaliya has pink neon hair and blue eyes, she's seen with horns(in her battlesuit) she is the same height as Liliya and a kg heavier than Liliya.
-Personality wise, Rozaliya is outspoken and somewhat showmen-like, she's usually more competitive and positive than Liliya --
Rozaliya Olenyeva had a wish since she was a child, and she got a strong force to protect her weak and sickly sister. After accepting the "treatment" of the magic doctor, she had a horn and tail, and finally - she had enough strength to protect Liliya.

Rozaliya and Liliya are now famous (self-proclaimed) star group "Vodka Girls", but only once in the Cocolia Orphanage. Regarding the future performance schedule and development plan, the parties are ambiguous, while the other party said that the sisters are happy.
Rozaliya said that the name "Molotov Cherry" originated from a mixed drink, but she never drank it, so she didn't know what it was. It must be as sweet and delicious as the cherry on the birthday cake that can be eaten once a year. Rozaliya rubbed the saliva that was about to flow down and began to complain for one hundred times why Liliya had to celebrate her birthday so that she can eat more cakes.
Battlesuits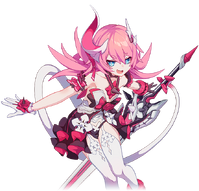 Molotov Cherry.png
Costumes
Coral Sunrise (Costume).png
Fervent Tempo Δ.png
Gothic Rozamary (Costume).png
Chibis
Molotov Cherry Chibi.png