Seele Vollerei
Seele Vollerei
Details
Age: 14
Birthday: Oct 18th
Height: 149cm (before X-10)
Weight: 42kg (before X-10)
Measurements: 74cm/56cm/78cm

Chinese VA: Yajing Tang
Japanese VA: Mai Nakahara
Weapon
Scythes
An orphaned girl who became Bronya's closest friend at Cocolia's orphanage. A tragic event in their past made all fear that she was gone forever, until she returned like a mysterious butterfly. Her newfound scythe-wielding skills come from deep within...
| | |
| --- | --- |
| Swallowtail Phantasm | Stygian Nymph |
| Swallowtail Phantasm | Stygian Nymph |
| --- | --- |
| | |
Appearance and Personality
[
edit
|
edit source
]
Seele was born in Estonia. In early life, she lost both her parents and was then raised in Cocolia Orphanage alongside some other orphans, including Bronya and Sin Mal. Seele had the least potential to be chosen for Cocolia's experiement, however she managed to awaken her power at the last minute and replaced Bronya to take part in the X-10 experiment. She did this in order to protect Bronya, only to lead to Bronya chasing after Seele by also participating in the experiment afterwards in hope of finding Seele. The experiment led to a failure that made Seele disappear into the Sea of Quanta stuck in a time loop. After that, Seele was considered dead.
Battlesuits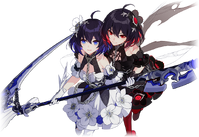 Stygian Nymph.png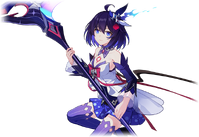 Swallowtail Phantasm.png
Costumes
Azure Memories (Costume).png
Mirrored Flourishes (Costume).png
Papilio Lily (Costume).png
Chibis
Stygian Nymph Chibi.png
Swallowtail Phantasm Chibi.png
| | |
| --- | --- |
| | |
| Character Trailer | Stygian Nymph Intro |