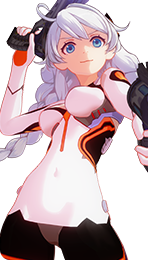 Mecha
White Comet
Profile
Kiana Kaslana battlesuit added in Version 1.8.
Melee attacker with stable DPS.
Good at interrupting the enemy.
High survivability.
Burst
Survival
Support
Ease
Control
DMG
Items needed to unlock the battlesuit: None. Available upon starting the game.
Items needed to evolve the battlesuit:
White Comet Fragment
 ×370 (Total amount)
White Comet is a playable battlesuit in Honkai Impact 3. It is used during Kiana Kaslana's first appearance in the main story and became an iconic image of the game itself over time.
As the first battlesuit obtainable by Captains, it features fairly simple gameplay focused on slow-but-heavy combo attacks.
Skills
[
]
※Any numbers shown are for MAX level skills.
Skill Inputs
[
]
Skill
Input
Special
Combo Skill: Comet Fall

+ Tap and hold

Ultimate
Neko-Charm!

Evasion
Neko Cartwheel

Basic
Meteor Kata
Guides
[
]
BBS Equipment Builds
[
]
What is BBS and what do the meters mean?
BBS, an official Chinese equivalent to HoYoLAB, has a wiki on which they present Captains with what is generally agreed on to be the best equipment builds available, aimed towards both the new and the veteran Captains. BBS separates gear recommendations by what we'll refer to as "tiers" and "criteria".
Tiers serve as means of separating all the different gear builds. Available tiers:
Recommended Equipment: Equipment build suited for what the battlesuit does the best. A lot of the times it's unique to just one specific battlesuit.
Auxiliary Equipment: Extra equipment build specifically for Supports, providing Captains with more alternatives.
Universal Equipment: Equipment build that is interchangeable with other characters performing the same role, without many drawbacks, or the most popular alternative to recommend equipment.
Transitional Equipment: Equipment build that can be used as a placeholder until a better gear is acquired. Easy to get since most if not all items are farmable. Good when starting out.
Criteria are visualized via meters that fill until they reach 100% - at which point the build fully meets the set criteria. Available criteria:
Offensive Ability: How much does the build help the battlesuit deal more dmg?
Functionality: How functional the build is when put together?
Compatibility: How well does the build fit the battlesuit's role/kit?
Recommended Equipment
Offensive Ability

90%
Functionality

60%
Compatibility

80%
Universal Equipment
Offensive Ability

80%
Functionality

50%
Compatibility

70%
Transitional Equipment
Offensive Ability

60%
Functionality

50%
Compatibility

60%
Other Languages
[
]
Language
Official Name
Literal Translation (Unofficial)
English
White Comet
—
Chinese
(Simplified)

领域装 · 白练


Lǐngyù Zhuāng · Bái Liàn
Field Outfit - White Silk
Chinese
(Traditional)

領域裝 · 白練



Japanese

領域装・白練


Ryōiki Sō・Shironeri
Field Outfit - White Training
Korean

투예복 · 백련



French

Comète Blanche

White Comet
Thai

White Comet



-
Vietnamese

Regional

German

Weißer Komet

White Comet
Indonesian

White Comet

-
Language
Official Name
Literal Translation (Unofficial)
English
White Comet
—
Chinese
(Simplified)

领域装 · 白练


Lǐngyù Zhuāng · Bái Liàn
Field Outfit - White Silk
Chinese
(Traditional)

領域裝 · 白練



Japanese

領域装・白練


Ryōiki Sō・Shironeri
Field Outfit - White Training
Korean

투예복 · 백련



French

Comète Blanche

White Comet
Thai

White Comet



-
Vietnamese

Regional

German

Weißer Komet

White Comet
Indonesian

White Comet

-
Other Sites
[
]
[

]